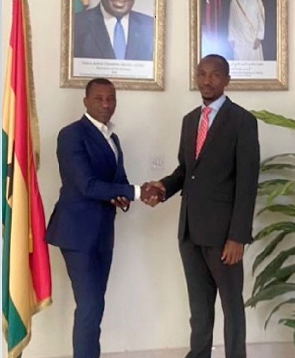 The new branch will facilitate travel for Ghanaian job seekers and tourists
Leading Ghanaian travel and tour agency, Kenpong Travel & Tours, is exploring the possibility of opening a branch in Doha, Qatar in order to meet the growing demand for its services within the Gulf region.
The Qatar branch would focus primarily on facilitating the movement of individuals who wish to travel and work in the oil rich country, as well as corporate clients traveling for holidays, tourism, business and conferences.
According to the Chief Executive of Kenpong Group of Companies, Kennedy Agyapong (Kenpong), the new branch opening is part of the group's strategic plans to accelerate its expansion activities and to bring its services to the doorsteps of potential international clientele.
In an exclusive interview with this reporter in Doha, Qatar, Kenpong further revealed that plans were afoot to enter into strategic partnerships with employment agencies and renowned hospitality firms in Qatar, to create employment opportunities for the youth.
Kenpong, who is expected to return to Ghana next week, also paid a courtesy call on Ghana's Ambassador to Qatar, His Excellency Mohammed Nurudeen Ismaila, assuring him of his company's readiness to expand its operations to Qatar.
"Our primary objective is to assist artisans, drivers and other professionals who would want to work in Qatar to genuinely acquire the requisite documentation. Kenpong Travel & Tours will serve as the gateway for those who would want to travel and work in Qatar or visit the country for holidays.
On his part, His Excellency Mohammed Nurudeen Ismaila, said his outfit is ready to offer Kenpong Travel & Tours the necessary assistance, to ensure that the company achieve its goals and objectives while operating in Qatar.
"I will commend Kenpong for taking such a bold step to come to Qatar. The embassy will provide you with the required support for you to operate your business without any hitches," the Ambassador stressed.
Kenpong thanked the Ambassador for his words of encouragement and the warm reception accorded him.
Kenpong Travel & Tours new office in Qatar will provide a full range of tourism and travel services, including airline reservations and ticketing, foreign holidays and worldwide hotel reservations.
Kenpong Travel & Tours is considered one of the leading travel and tourism agencies in Ghana and West Africa, as it is an authorized agent for ticket sales and travel services for a host of airlines in Ghana.
It will be recalled that Kenpong Travel and Tours Limited was in 2022 designated as the official company to handle travel arrangements for the Ministry of Youth and Sports and its allied institutions during the 2022 FIFA World Cup held in Qatar.
Aside being responsible for the issuance of tickets and facilitating the acquisition of visas, Kenpong Travels was also responsible for arranging accommodation, transport and travel advise for all who took part in the Qatar FIFA World Cup tournament held in November and December last year.
Related Posts