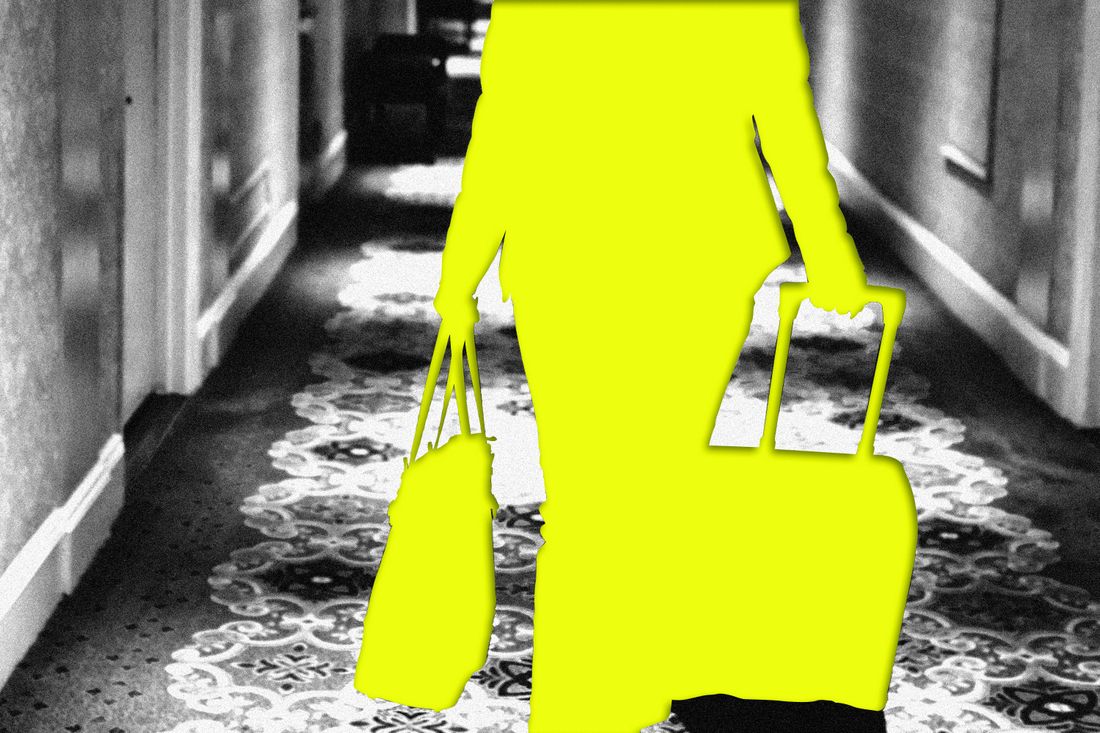 Photo-Illustration: Photo: Getty
The day the Supreme Court officially overturned Roe v. Wade, Melissa Benjamin, assistant director of the abortion-aid organization Colorado Doula Project, saw a Facebook post from an old high-school friend offering to house anyone who needed to travel to her state for an abortion. By the end of that balmy Friday in late June, that kind of offer wasn't unusual — but it was one of the comments that struck Benjamin. Someone who "probably had the best of intentions" proposed to make a spreadsheet of contact information that could be passed around for anyone willing to host an abortion seeker. "I saw that," says Benjamin, "and my heart stopped."
In the past, some abortion funds, groups that provide both financial and practical support for the procedure, have at least partially relied on volunteers to provide lodging for those coming from out of state (they also used volunteers to drive them to the clinic or hospital, or simply for companionship). But that model, while more economical than renting hotel rooms, often had other costs. Organizations like Colorado Doula Project spent hours vetting potential volunteers, poring over applications for any sign that they might actually be anti-abortion actors in disguise. The potential of a widely shared, completely unregulated spreadsheet was "terrifying" for Benjamin. "You really don't know who you're getting if they haven't been vetted," she says.
An increasingly abortion-hostile landscape coupled with a dramatic upsurge in the number of people who want to help keep abortion accessible has made vetting and training volunteers especially difficult. Odile Shalit, executive director of national network the Brigid Alliance, says that organizations have increasingly been leaning toward booking and funding hotel stays and hiring cars instead of relying on volunteers to provide those services. "This movement has relied upon volunteer labor for a very long time, and so much expertise and beauty and work has come out of that, but it is not a sustainable model," she says. "There is a lot of work, money, time, and maintenance involved … Simply being pro-choice does not necessarily mean you're going to be the right home for someone who is seeking an abortion."
Another Colorado-based abortion fund, Cobalt, has never offered volunteer hosting — and has, in fact, long discouraged it. First, Cobalt communications director Jaki Lawrence says, rooms or couches in a stranger's house often aren't big enough for people who need to bring their children with them (according to the CDC, 60 percent of abortion seekers already have one child, and parents can't always get away so easily). Being close to a hospital is also a priority.
But there are also more personal considerations. Well-meaning volunteers, says Colorado Doula Project's Benjamin, aren't always good at providing nonjudgmental support for people, especially people who might have been through a lot. "I just think about myself, traveling away from my home for a medical procedure that is restricted or banned in my state," she says. "Who knows what kind of trauma has been in my life? Who knows what kind of intersectional difficulties I'm facing? And I show up at the home of a stranger." (Cobalt briefly hosted a volunteer driving service and trained volunteers on "cultural competency, reflective listening, and emergency preparedness," but closed the program because of the pandemic and, ultimately, because they noticed most of their clients preferred ride-shares.)
Terry, who asked to be identified by a pseudonym to protect her privacy, has volunteered with Midwest Access Coalition for over two years, hosting abortion seekers and driving them to and from their medical appointments. She acknowledged that the dynamic between a host and a houseguest is often tricky — and says she tries to follow the visitor's lead. "It really depends on the mood of the person," she says. "Part of it is being able to be flexible, being able to be a really active listener, being able to match your mood with people's mood or energy."
The Colorado Doula Project vets its volunteer drivers by looking up how they (and their family members) are registered to vote, as well as exhaustively scanning their social media. Red flags, per Benjamin, are something like following conservative politicians. But a volunteer can get denied for anything from liking pages about adoption to even sometimes expressing fandom for Ellen DeGeneres, who, Benjamin has observed, has a big right-wing following despite her pro-choice beliefs.
"The anti-abortion side of this can be very insidious and are absolutely not above things like misinformation and deception," says Lindsay Rodriguez, communications director for the National Network of Abortion Funds. "It's incredibly important when somebody is wanting to offer housing that they're plugged into a network that is familiar with the sorts of anti-abortion actors that they have in their area."
In a "laugh so we don't cry sort of way," employees at Cobalt began referring to the demand that followed the May leak of the decision in Dobbs v. Jackson Women's Health Organization to let each state decide its abortion policy as a "dress rehearsal" for what was to come. Even so, says director Amanda Carlson, the sheer volume of patients seeking aid has been astonishing. "We essentially found ourselves becoming national travel agents overnight," she says. Last week, they spent $18,000 on airfare, food, lodging, and travel to and from clinics, as well as funding for the procedures themselves. Since Dobbs was announced a month ago, they've provided practical support to almost twice as many people as they did in all of 2021. Their cash assistance was so high volume that some payments they sent through various apps were flagged as possibly fraudulent. With eight states having banned abortion outright or implemented six-week bans (before most people know they're pregnant) and another nine states' bans about to be enacted, they aren't expecting those needs to diminish anytime soon.
Related Posts