"We go where no one goes," is Wandermut's tagline, but one of the German tour agency's packages has left people asking whether some places are better left unexplored.
The travel startup's 10-day Panama Jungle Tour has been criticised across Latin America in recent weeks for offering tour packages in a region which is home to one of the world's most dangerous migration routes.
The agency markets its trek through the Darién Gap as a chance to see the unique natural beauties of one of the world's most pristine tropical forests – and the ultimate survival test for the intrepid.
"Reaching our destination and the course of the entire tour are uncertain," Wandermut says in its edgy promotional material.
The Darién, a 100-mile swath of jungle between Colombia and Panama, is home to incredible natural beauty, including cascading waterfalls, myriad endemic species and crystal-clear streams.
But its inaccessibility and lack of development have also turned it into a haven for drug trafficking militias, armed bandits and one of the world's most desperate migrant crossings.
Tourism in any part of the Darién is reckless due to the treacherous terrain, lack of state presence and pervasive organised crime, said Giuseppe Loprete, the International Organization for Migration's chief of mission in Panama.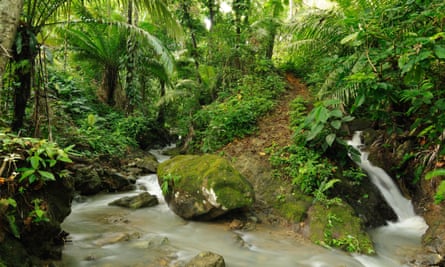 "The Darién jungle is a notoriously remote region of swampland and dense rainforest spanning 100km of the border between Colombia and Panama. There are no roads, the access is very dangerous for border authorities and even more so for humanitarian actors. Even fully equipped and trained border authorities such as Panama's national border service … can access the Darién jungle [only] to a certain point, just on the Panama side," Loprete said.
"Today, while you read this, there are privileged people from the first world travelling to Colombia to an area full of migrant corpses to live out an adventure in the jungle. If that does not make you want to vomit, I don't know what will," commented one Twitter user.
A record 250,000 migrants – mostly Latin Americans but also a growing number of people from as far afield as Afghanistan and China – took the 10-day trek through the Darién in 2022 in the hopes of eventually making their way to the US.
As the number of people fleeing economic strife and persecution has increased the migrants making the trek are increasingly poorly equipped and weak, say medical NGOs tending to sick people who emerge from the jungle in Panama.
Doctors without Borders (MSF) says it is seeing a growing number of families with small children, malnourished and diabetics who are at higher risk of being lost to the mountainous jungle.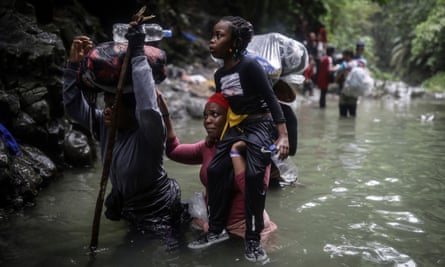 At least 36 people did not survive the crossing in 2022 – though that number is a "small fraction" of the number of lives lost as many of the bodies were left to decay in the lawless jungle, according to the International Organization for Migration.
Wandermut told the Guardian that it has learned of the plight of migrants in the Darién since it began offering its tours there in recent years and that it takes its European clients through the Pacific side of the Darién, not the Caribbean side which is more trodden by migrants.
"We don't holiday where people suffer," the travel startup's founders, Tom Schinker and Martin Druschel, told the Guardian in a statement.
Panama's tourist authority defended the tours, saying there was no connection between "legitimate tourism operations in southern Darién [and] the catastrophic humanitarian crisis that is migration through the northern part of Darién territory".
"These two activities take place in completely different areas of the Darién, separated by more than 55 miles of tropical forests and tribal territories," the agency said. It also said that local communities in Darién "benefit greatly from tourism by connecting with visitors on a personal level and offering their services, such as lodging, guiding and canoe transportation".
But even if tourists steer away from migrant trails, marketing the dangers of the Darién is in bad taste, MSF said.
While migrants pay a couple of hundred dollars to coyotes for passage and trek, sometimes shoeless, with no more than the bag on their backs, holidaymakers on the "survival tour" pay €3,500 ($3,800) to cross with the luxury of satellite phones, local guides – and the option of an emergency airlift if necessary.
"Migrants do not have any of this equipment, they often get severe diarrhoea from the rivers as they cannot afford drinking water," Luis Eguiluz, head of MSF's mission in Colombia and Panama told the Guardian. "Any initiative that trivialises the suffering of migrants is unacceptable. We need to show the public the suffering of these people, not make light of it."
Along with natural perils such as wild animals and fast-flowing rivers, migrants often fall prey to the drug cartels who have become a growing threat, lining their routes with land mines to protect their increasingly lucrative racket.
Migrants are frequently robbed, women raped and young children have been shot dead by armed bandits.
Wandermut says its tours are safe due to the experience of its guides and that informs Panamanian border officials of its activities.
"Our most important guide, has not had any problems with smugglers or other criminals due to his contacts and experience over the past 20 years," the business says.
Though the company "cannot rule out every risk" the company's founders said, "so far there has not been a critical incident".
A number of travel agencies, including in the UK, appear to offer similar tours through the Darién though it appeared that most have ceased offering tours or have little demand since the humanitarian crisis in the Darién accelerated in 2020.
Officials at civil society groups familiar with the Darién have raised concerns that the tour agencies could be paying armed groups for access to their tourist routes, lining the pockets of criminal organisations and perpetuating the migrant crisis in the Darién.
Wandermut did not respond to comment on whether it paid any criminal organisations for passage.
Related Posts