In our experience, the easiest way to sweeten a workday is with a lunch to look forward to. Should you need to land a deal, boost morale within the team or simply incorporate some food-based joy into your day, Auckland restauranteurs will always deliver. Next time you need to book a quick and easy corporate lunch, there's an offering sure to impress from our definitive guide on where to find the most delicious weekday lunches in Auckland.
Mr Morris
Corporate lunches often call for a bespoke menu — a notion in which Britomart's Mr Morris is well versed. Rare are the times you'll find three courses served in 45 minutes, but here, the kitchen's understanding of a one-hour lunch break has this down to a fine art. If you let the team know when booking, you'll receive a quick appetiser on arrival, shortly followed by a seasonal entree to share. This is followed by your choice of main, which comes with a divine seasonal side. The beauty of this menu is that it frequently changes, so you'll never find yourself bored.
Gochu
If you've got time for a long lunch (this is one instance where we suggest making the time), Gochu's 'Leave it to the Chef' lunch is a delightful way to treat yourself and your colleagues to a culinary adventure. With this menu option, you'll discover why Gochu is one of Commercial Bay's most popular eateries, as you indulge in dishes like the famed fried chicken sliders and the delicious crispy eggplant — the latter a dish that's sure to change the way you think about vegetables.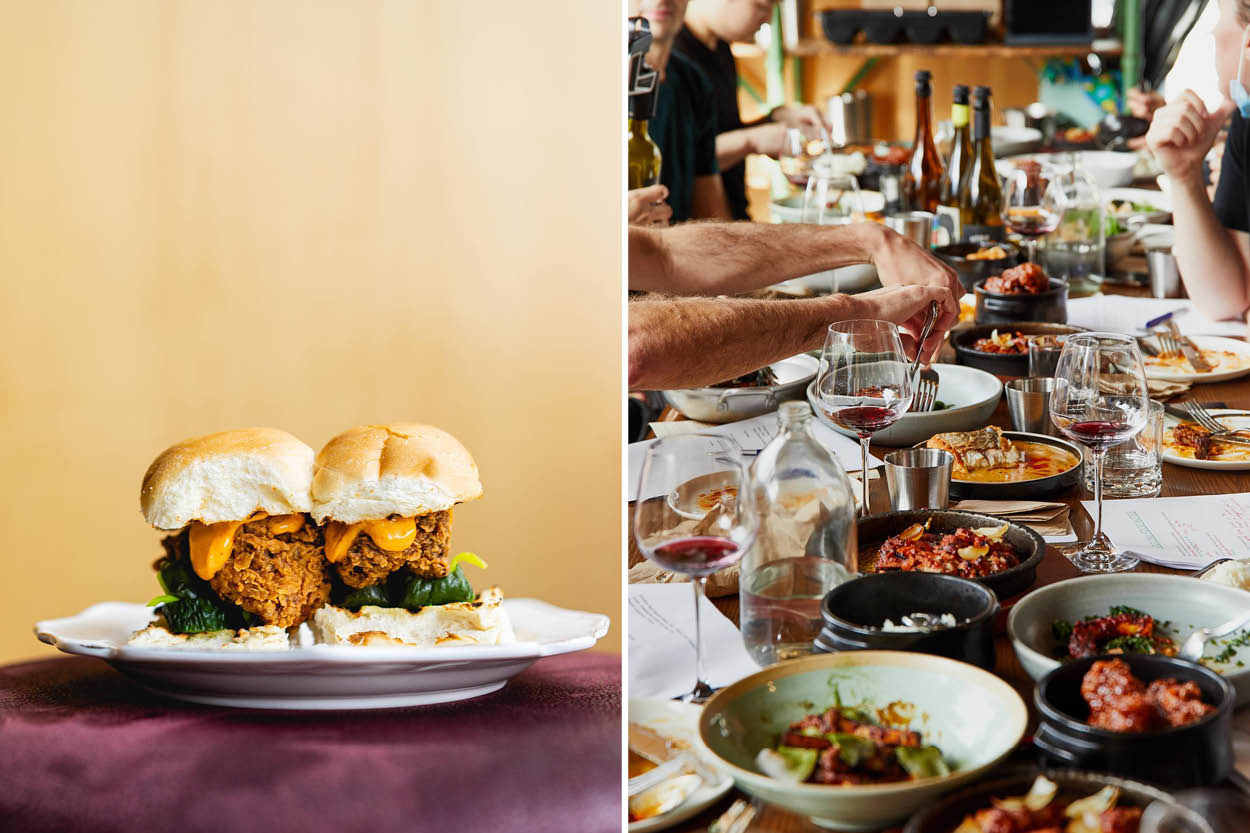 SPQR
Famously home to one of the City's most beloved long lunches, with a sought-after vantage point of Ponsonby Road, SPQR is just as divine on a weekday as it is on the weekend. Its tailored working lunch menu allows you the time for two delicious courses (or three, should you be craving tiramisu for dessert), beginning at a humble $50 per person. On this menu, you can choose your own entree and main from a curated selection of SPQR favourites (seared scallops with organic corn and chorizo and the vegan spaghettini, please), which makes it a quick, easy and always impressive choice for lunch.
Huami
Yum cha has long been a favourite mode of communal dining, and with Huami's elevated offering, we've never been more convinced. Available from Wednesday until the end of the week, this workday lunch option is an easy way to keep everyone in the group happy and encourage compelling table conversation. While Huami's menu is expansive, it would be remiss not to order a few servings of the beloved dim sim (the squid ink and prawn are sensational) and the steamed barbecued chicken bun, too.
Milenta
Since opening earlier this year to long-awaiting crowds, we've been impressed by everything coming out of Milenta's kitchen, courtesy of Head Chef Elie Asaf's inimitable talents. Lunches here are another affair — a meal we anticipate will become more and more popular as the weather continues to get warmer. While rumour has it we should expect a new menu in the coming weeks, our favourites of the moment include the pork, paying homage to the restaurant's Argentinian roots, and the ceviche, which is just as visually pleasing as it is utterly delicious.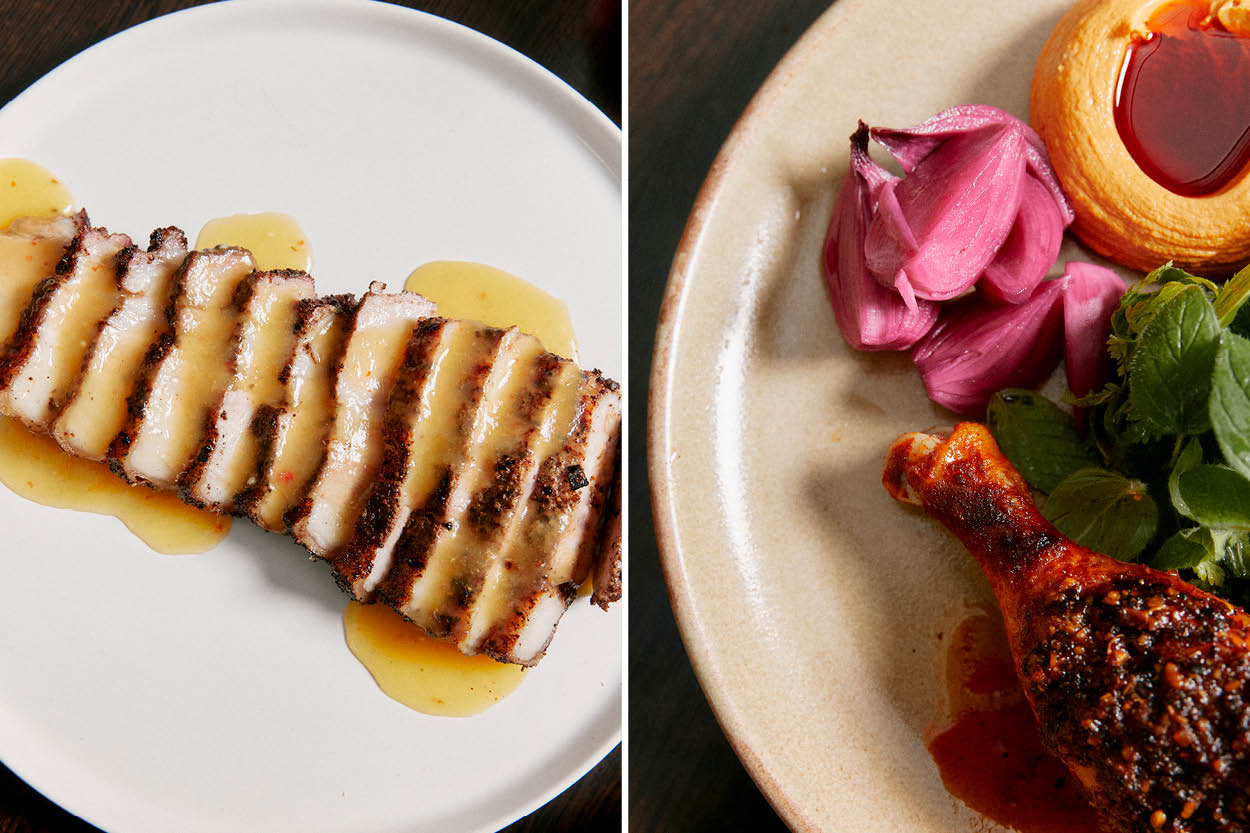 Ahi
Regardless of the occasion, Ahi is a restaurant set to impress. Over lunch, we suggest you opt for the set menu, which provides a concise offering of the revered cuisine for which this Commercial Bay restaurant is known. The Cambridge asparagus with bresaola, mushroom and hollandaise is a virtuous start to any meal, paving the way for Ben Bayly's famed wild red deer striploin — one of our favourite game dishes in the City. Last but not least, we recommend you finish off lunch with the naked mallowpuff, sure you see you through any potential afternoon slump.
Siso
This Remuera favourite offers a little-known secret, the Locals Lunch. From Wednesday until Sunday, for a mere $35, you can make like the locals and devour some of Siso's most beloved dishes. Begin with a choice of crispy calamari or a spinach filo pie (which comes dowsed in brown butter sauce) before being treated to a grilled chicken salad or hand-cut linguini with fermented chilli as the tour de force. Of course, like all good lunches, Siso's comes with a glass of Church Road wine.
Ebisu
Here, in the heart of the CBD, this Britomart classic offers an Express Menu for those caught amid yet another busy day. Offering a selection of its most beloved dishes, including a chef's selection of fresh market sashimi and the seared Angus beef tataki to begin, you'll delight in one of its three hero mains (although we can never look past the teriyaki chicken here). Ebisu is our favourite for a reason — there's no denying its greatness.
Odettes
Should you need a quick powwow with the team, a catch-up with your manager or somewhere to grab a swift bite to eat, Odettes is our go-to for more than just the convenient location. Its quick lunch menu iterations are just as inviting as we have come to expect from the City Works Depot establishment, ideal for those busier days. Truthfully, we would eat the seared salmon with fennel slaw, herbed buttermilk and dukkah all day if we could.
Faraday's Bar
Intimate in its nature, at Faraday's Bar, impeccably swift service is always guaranteed. The menu is refined, allowing you the freedom to choose without worrying about whether you'll make your next meeting. Seasonally driven and always changing so as to incorporate the freshest ingredients, we are currently loving the roast beetroot agnolotti, but have to admit that the Chef's Special Mount Cook smoked salmon bagel is also perfect every time.
Andiamo
Another destination for a long lunch classic, Andiamo's Spring Soirée menu is delightful — and just the kind of lunch set to impress at this time of year. Offering a special menu that comprises two courses (diners can choose their favourites from a curated selection of starters and mains) created by Executive Chef Gareth Stewart, everything is made with fresh and flavoursome, seasonal ingredients and is made all the more perfect when paired with a flute of Perrier Jouët Champagne. Take note, however, this springtime special is here for a good time not a long time so we suggest making the most of it while you can.
Related Posts