The diversity and richness of experiences offered by Irish tourism were celebrated at the CIE Tours Annual Awards of Excellence in Dublin this week.
Launched in 1990, the awards recognize Ireland's hospitality ambassadors – the people and businesses throughout the country who put Irish tourism on the global stage through the warmth of welcome and quality of service provided to international visitors.
Award Winners 2023
This year's awards, presented at EPIC The Irish Emigration Museum in Dublin on Wednesday 8 February, were based on post-stay feedback received from nearly 20,000 customers surveyed throughout 2022.
Each of the CIE Tours' partners who qualified for an award, delivered an exceptional quality experience and welcome to visitors, achieving a customer satisfaction rating of over 92%.
4
Fourteen overall award winners were announced, and each achieved the highest customer rating in their category:
Best 5 Star Hotel: Grand Central Hotel, Belfast
Best 4 Star Hotel: Cabra Castle Hotel, Cavan
Best 3 Star Hotel: Dooley's Hotel, Waterford 
Best Hotel Accommodation: Dunraven Adare Hotel, Limerick
Best Hotel Dinner: Ballygarry Estate Hotel & Spa, Kerry
Best Hotel Service & Hospitality: Clayton Hotel, Burlington Road, Dublin
Best Event Dinner / Entertainment: The Crosskeys Inn, Antrim
Special Dinner Feature: Killeen House Hotel, Killarney, Kerry
Best Tour Feature: Marine Bar, Waterford
Best Walking Tour: Westport Walking Tour, Mayo
Best Visit: Cliffs of Moher, Clare 
Best Lunch: Taylors Three Rock, Dublin
Best Sheep Dog Trial: Atlantic Sheepdogs, Sligo
National Heritage Award: Brendan Ferris Sheep Dog Trials, Kerry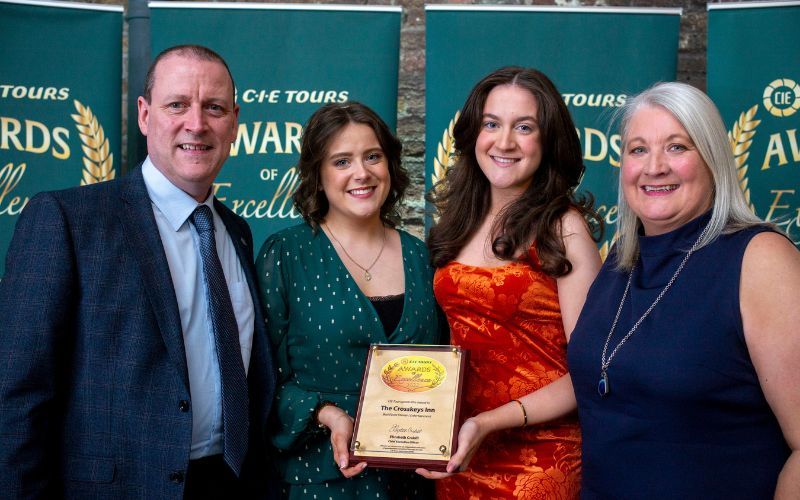 4
Merit Awards were also presented to 54 hotels and tourist attractions that achieved a customer rating of 92% or higher. 
Speaking at the presentation of CIE Tours Annual Awards of Excellence, Elizabeth Crabill, CEO said; "The Irish holiday experience is unique, and its popularity is very evident in the strong rebound we witnessed once international travel re-opened following the pandemic.
I want to acknowledge the resilience of our tourism partners who, having had a very difficult few years, enthusiastically welcomed back our visitors once restrictions were lifted."
"We are very encouraged by the pipeline of bookings for the coming year, which is ahead of expectations," she added.  
Ms Crabill said that as one of the longest-established tour operators in Ireland, CIE Tours is well placed to help Ireland capitalize on the growing interest in sustainable and responsible tourism.  
With our experience and knowledge, we can be a strong partner to Fáilte Ireland in achieving its ambition to develop Ireland as a high-quality tourism destination that facilitates a healthy and sustainable industry," she said.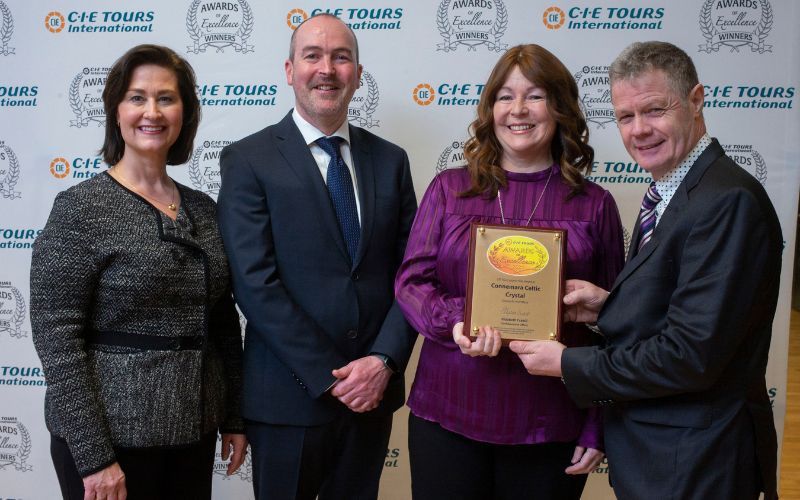 4
About CIE Tours
CIE Tours, which celebrates 91 years in business, is the largest operator of guided tours to Ireland in the North American market, bringing over 25,000 visitors here last year.
They offer all-inclusive coach tours, custom group and private driver holidays, and fly-drive programs to Ireland.  CIE Tours also provides combined tours of Ireland and the UK, as well as tours to Britain, Italy, and Iceland.   
Related Posts