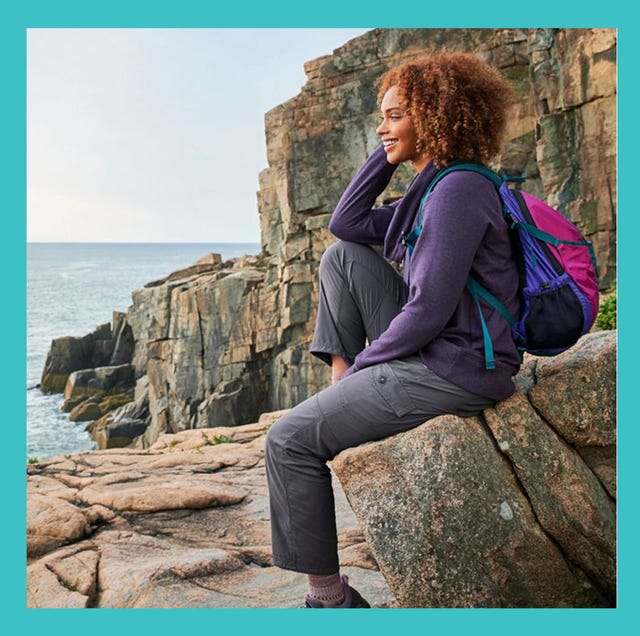 LLBean/Fjallraven
Your friends planned a fun girls trip out to a local hiking trail, but when you open your drawer, you realize all you have are workout leggings. That'll do–right? Well, maybe not. When you're doing any kind of long-term walking or hiking, especially in a wooded area, a proper pair of hiking pants are essential for your comfort and safety. We break down exactly what the best hiking pants for women are so you can crush your next outdoor adventure.
Why do you need hiking pants?
You may think that you can get away with jeans, sweats, or leggings on the trail, but hiking pants are designed to be your best bet when exploring the great outdoors.
"Hiking pants are super important, and they're more versatile than ever," says Alex Intraversato, L. L. Bean vice president of men's and women's apparel, sporting, and hunt-fish. "When people get out and are active, you don't want to be in your jeans going for walks or hikes."
This is because the material of hiking pants (often a blend of spandex and other synthetic materials) offer a stretch, comfort, and temperature control that denim and cotton can't, she explains.
Plus, the cool days in the summertime aren't the only time you can enjoy the great outdoors. Intraversato encourages people to head outside year-round and choose gear that supports their activities. Hiking pants these days are available in long lengths, crops, or shorts and offer UPF protection, bug protection, water resistance, and even lining for cooler months.
How we chose the best hiking pants
We combed through hundreds of user reviews to find the best hiking pants real people love, and we chatted with outdoor apparel expert Intraversato to determine how to pick the best hiking pants for you.
Our top picks
Advertisement – Continue Reading Below
1
Best Overall
Women's Vista Camp Pants
Abrasion-resistant
Extra stretchy and comfortable
Some reviewers say it runs large
These surprisingly light hiking pants are perfect from running errands to hitting the trails. Designed to be abrasion-resistant, extra stretchy, UPF 50+, and full of pockets, they're the perfect pick for a hike, walk on the beach, or really anything at all. One reviewer said, "The most comfortable ever. Great fabric, amazing stretch. They look terrific on. I can hardly wait to get my next pair. I can't believe I'll ever wear anything else."
2
Best Value
Women's Relaxed Fit Jogger Track Cuff Sweatpants
Great value
Extra comfortable
Not designed for intense hiking
Reviewers rave the pants are super comfortable and the loose material is great for movement while also holding up against whatever your hike throws at you. Plus, they have a comfortable waistband make to keep your pants in place without any pinching. One reviewer said, "So soft and loose with stretchy material just how I like it."
3
Most flattering hiking pants
Women's Tasman Pant
Slim fit
Extra stretchy elastic waistband
These slim-fit hiking pants hug your body in all the right ways for the most flattering (and comfortable) fit. The pants are made with a super stretchy, fast-wicking fabric, have extra pockets, an elastic waistband that moves with you, and three trail-ready colors. One reviewer said, "Super comfortable, light, and you don't sweat in it."
4
Best Hiking Leggings
Women's Abisko Trekking Tights
If you really love your leggings, this pair is the best when it comes to a hike. They're made ultra-tight for durability and moisture resistance but still remain comfortable as you move. They are designed with a wide waistband, tough double-layered fabric, and have a small zippered pocket. One reviewer said, "Simply the best hiking tights ever."
5
Best Hiking Pants With Stretch
Women's Saturday Trail Pant
Some reviewers complained about shallow pockets
We included these hiking pants in our best winter hiking gear guide, but what really makes them stand out is their incredibly inclusive styles and sizes. Choose from a size 2 to 24 with variations made for tall, short, long, and plus sizes. Plus, they're water repellent, quick-drying, and keep you warm without the bulkiness of snow pants. One reviewer said, "Great looking, great comfort, and retain their shape. Worth the money and not just for hiking!"
6
Best Capri hiking pants
Women's Aphrodite 2.0 Capri Pant
Some reviewers said the material can pull easily
These pants gather at the sides to create a chic ruched effect, are made from nylon and elastane to keep you cool while you move, and keep your valuables safe with secure zip pockets. In short: they're functional and fashionable. One reviewer said, "I have worn these hiking, strolling, jogging, and bike riding so far with great comfort. I like pockets, too."
7
Most size inclusive hiking pants
Women's Water-Repellent Comfort Trail Pants
Inclusive sizing
Water-repellent
Some reviewers said they are a bit baggy
These hiking pants are literally built for comfort for anybody. Choose from regular, petite, or plus sizes that run from 4 to 26W and there's even an option in the regular sizing for a medium tall inseam and an adjustable waistband for a custom fit. We also love that they're quick-drying, breathable, water repellent, and offer two-way stretch. One reviewer said, "Perfect summer into fall hiking pants…I can wear these for a few days and for some reason, they stay clean and neat. I like the adjustable waist."
8
Best cold-weather pants
Activator 3.0 Pants
Water and wind resistant
Provide warmth
These hiking pants are a bit thicker than your average pair but are still extremely comfortable. They're tough against branches, rough terrain, keep you warm, and are water and wind resistant. Plus, they have fantastic zippered pockets to carry all of your needs. One reviewer who took them on a recent hike said, "These were the most comfortable and versatile. Worked well in rain, mist, cool weather, and the sun. Love them."
9
Best waterproof hiking pants
PreCip Pant
Not great for all-day, active use
If you're hitting the trails and the forecast looks grim, these are the pants for you. They're 100% nylon with a waterproof membrane and include zippered pockets to keep your items safe from the weather. Wear them right over your regular hiking pants, leggings, or a pair of long underwear to stay dry and comfortable throughout the storm. One reviewer said, "Lightweight and quiet fabric make these rain pants perfect for hiking. The fit is roomy, but not bulky, and they drape nicely."
10
Best convertible hiking pants
Sahara Convertible Pants
Convertible from pants to shorts for comfort
Wide size selection
Some may find them to be unflattering as pants and shorts
These looser-fitting hiking pants are breathable, have great pockets, are comfortable, and come in a wide range of sizes. The best part, though, is the zippers on the side of the legs that allow you to easily convert your pants to shorts without removing your shoes. One reviewer said, "These are nice zip-off pants. The color is nice. Waist can be varied by a drawstring."
How to choose the best hiking pants
Intraversato says the best hiking pants are based on three factors:
Comfort. Choose the right fabric and fit when looking through hiking pant options. Intraversato says you'll want a fabric that is lightweight, breathable, stretchy, and comfortable enough that you can bend, climb, and move as needed. An elastic waist, drawstring, and additional adjustability options all help ensure the most comfortable fit for you, she adds.

Performance. If your hiking pants are breathable, wick away moisture, abrasion-resistant, and can keep your temperature in check (keep you warm or cool you down), then they're doing their job, Intraversato says.

Style and versatility. A good pair of hiking pants gets you through your hike, but a great pair also takes you to the ice cream shop at the bottom of the mountain or to your errands on the way home from the adventure. Intraversato says to consider where you want to go with your pants and choose a pair that feels comfortable for accomplishing more than just a hike. Plus, consider if you want long pants, shorts, capris, or a combination that best suits you.
This content is created and maintained by a third party, and imported onto this page to help users provide their email addresses. You may be able to find more information about this and similar content at piano.io
Advertisement – Continue Reading Below
Related Posts